As the population ages, virtual care can help the elderly maintain their independence and improve their health 
According to the Center for Disease Control and Prevention (CDC), the global population of elderly people (65 years and older), was approximately 420 million in the year 2000. By 2030, this number will increase to approximately 973 million. The U.S. has more elderly people than other developed countries.
Our aging population brings increased prevalence of chronic disease and disabilities
In 2010, over 38% of the elderly population had one or more disabilities. The most common disabilities are difficulties walking, climbing stairs, and doing errands alone. At the same time, approximately 80% of all elderly people in the U.S. have at least one chronic condition. The most common chronic conditions for elderly patients are:
1. Diabetes
2. Alzheimer's disease
In 2013, approximately 5 million people 65 years or older were living with Alzheimer's disease in the U.S.
By 2050, the number of individuals living with Alzheimer's disease is projected to increase to 14 million
By 2040, the total cost of Alzheimer's disease care is projected to reach between $379 and $500 billion
As chronic conditions and disabilities become more prevalent, the U.S. does not have enough healthcare professionals to meet the need of our elderly patients. The American Geriatric Society only has 6,000 registered healthcare professional members. Fortunately, telemedicine and virtual care technologies can help to fill this gap.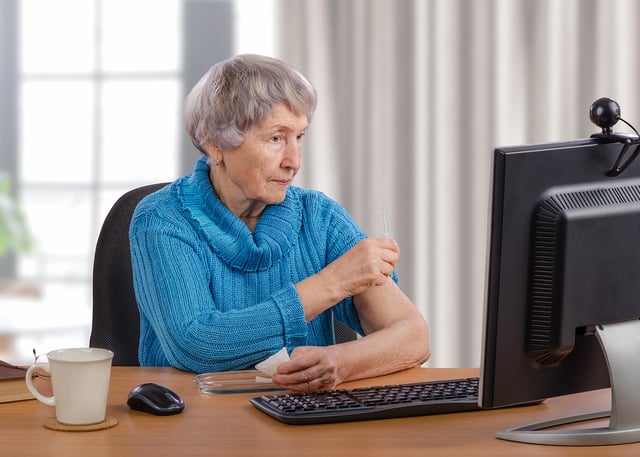 Telemedicine — and its use in geriatric care — is growing
By 2018, the telemedicine industry in the U.S. is expected to grow to $4.5 billion. By 2020, an estimated 53% of U.S. hospitals will have telemedicine technology. Various providers, including hospitals that participate in Medicare, are implementing clinically integrated care models that include telemedicine based wellness visits, psychotherapy services, extended office visits, chronic care management and remote patient monitoring. According to the American Hospital Association, telemedicine is becoming a vital component of the healthcare delivery system because it improves:
Access to healthcare and convenience for elderly individuals in remote locations and nursing homes,
Quality of care and patient satisfaction, and
Cost effectiveness of healthcare delivery for those who are often on a fixed income in retirement
Although telemedicine has considerable benefits for geriatric care, it also has some limitations. Elderly people are often resistant to use new technology, for example, but this might be changing. According to the U.S. Census Bureau, internet usage among the older population increased 31% from 2000 to 2010. As new regulations and payment models evolve, elderly people are becoming more comfortable with healthcare technology.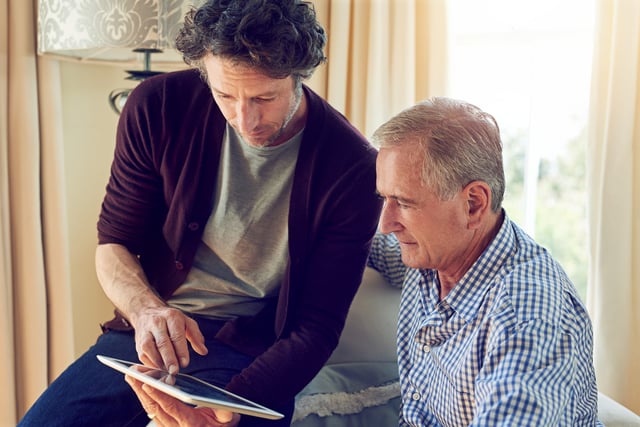 There are many benefits of telemedicine and digital health technology for the elderly and their physicians
Telemedicine for geriatric patients allows healthcare providers to diagnose, treat, educate, rehabilitate, and monitor patients from a distance. This allows the elderly to live in their own environment and can delay placement in a nursing home. Virtual care has also been shown to decrease social isolation amongst the elderly. Smart device programs, too, can allow physicians to monitor blood pressure, blood glucose levels, pulse, oxygen saturation, and weight remotely and with non-invasive sensors.
If healthcare technology is usable and cost effective, it will become an integral component of geriatric health management. HealthTap offers an easy-to-use virtual care platform for patients and physicians. Physicians can use the HealthTap Virtual Practiceto treat and connect with patients anytime and from anywhere.
If you are interested in joining the HealthTap Medical Expert network and building your Virtual Practice, click the button below.
Liked this article and want more? Read about How Telemedicine is Helping People with Disabilities become Independent