Teledentistry is quickly becoming an integral part of a well-run dental practice.
Dental care costs tax payers more money than it should
According to the Centers for Disease Control (CDC),
Cavities are one of the most common chronic conditions in the United States
By age 34, over 80% of people have had at least one cavity
Dental care costs $113 billion annually, on average
Absenteeism due to dental treatment costs the economy over $6 billion annually
According to the Health Resources and Services Administration, there is a current shortage of dentists in the United States — 7,300dentists to be exact. To meet current and future dental needs in the United States, we need to find unique methods to expand access to dental care. Teledentistry might be the answer!
---

What is Teledentistry? 
The Journal of International Society of Preventative & Community Dentistry, defines teledentistry as "a combination of telecommunications and dentistry involving the exchange of clinical information and images over remote distances for dental consultation and treatment planning." With this type of service, oral hygienists can provide care at remote and non traditional locations, such as schools and nursing homes, and communicate with the dentist virtually.
Teledentistry can include patient care and education delivery via
Live video consultation,
Storage and transfer of recorded health information,
Remote patient monitoring, or
Mobile health education and public awareness
Teledentistry CDT codes have been approved by the American Dental Association 
Teledentistry will be included in the ADA's Code on Dental Procedures and Nomenclature (CDT Code) and can be used in dental practices for the first time in 2018. With the implementation of these codes, reimbursement for virtual dental services becomes a reality. The new CDT codes are defined as:
Telendentistry: synchronous; real-time encounter
Telendentistry: aysnchronous; information stored and forwarded to dentist for subsequent review
---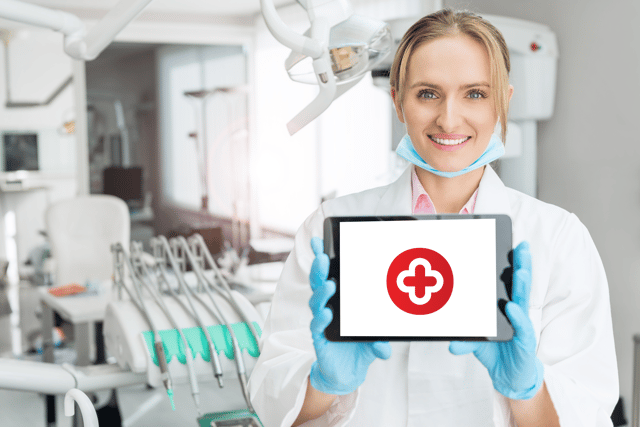 Today, technology has become an integral part of everyday life and is removing barriers to healthcare services. Teledentistry is on the horizon and for dentists, this means that your services may no longer be restricted to just the four walls of your practice.
Dentists, sign up to HealthTap today to make sure your patients have easy access.
Like this article and want more? Read how you can be a great virtual care doctor in 5 easy steps.
---
Related